My Successful Pet Biz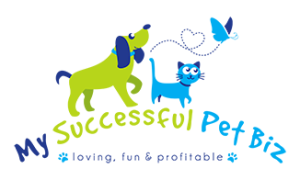 Is your ultimate goal to have a business that runs successfully without your constant involvement? Do you dream of taking vacations and spending quality time with family and friends on a regular basis…maybe even during holidays!
If you answered yes, then My Successful Pet Biz program is the bridge to take your business from where it is today to where you want it to be. The program guides you step-by-step through a review of your key systems so weak links are fixed.
Sound systems create the environment for employees to:
Think like you,
Provide consistently high quality pet care and
Work as a harmonious, high-performing team.
My Successful Pet Biz program provides the tools and documentation so:
Busyness, drama and drifting are transformed into productivity, flow and direction
Your business vision becomes every day reality
You love owning your business
You take your dream vacation
My Successful Pet Biz program is an online self-study program with coaching support. Weekly you will either receive an instructional lesson or participate in a group coaching call on implementing or updating your key business systems.
We know you are a busy business owner who can feel overwhelmed.
Daily operational issues, staff drama and client relation issues leave little time to create or update systems and procedures.
Documentation creation and updates never seem to make the top of your priority list.
However, these are the proven tools that can eliminate your overwhelm and help you take back control of your business.
Hear what others had to say about My Successful Pet Business…

My Successful Pet Biz program guides you step-by-step through an analysis of every important system that comprises your business. It is comprehensive in scope so there will be no weak link in any system:

Company – your business vision will align with your personal success definition
Marketing – consistently differentiate your brand as the best choice in pet care to targeted prospects
Customer Service – have confidence in maintaining excellent service ratings and reviews
Financial – understand your reports and use them to make business decisions that increase profits
Staff Management – create a harmonious, high-performing work team
Operations – deliver consistent high-quality, safe and fun pet care services
This program is unique in its design as each part:
Offers 18 educational lessons including forms, templates and key documents required for a strong business foundation or revenue growth.
Includes project-planning tools and time during the course so you actually implement changes to your business as you learn during the program.
You take advantage of short cuts to implement and customize documents for your business quickly using templates and resource links provided.
Includes 6 small-group coaching calls to answer questions and hold you accountable to implementing new tools to improve your business.
Six bonus modules provide tips to improve your leadership, productivity and self-management skills resulting in easier implementation of changes.
We invite you to complete our Biz Systems Strength Finder online Quiz for an assessment of your current business systems and whether My Successful Pet Biz is right for you.
To learn more about Part 1 Strong Foundations, CLICK HERE.
Be sure to get your FREE infographic on the six hats you should be wearing as a pet business owner by clicking on the image in the top sidebar.