About Us

Hi, I'm Susan Briggs.
I create products and courses to assist in coaching pet business owners who are ready to achieve better financial results and create a business that operates without you. I help turn uncertainty about your next step into a guided success journey.
I've got…
Over 15 years experience training and coaching in the pet care industry
Twelve years walking in your shoes as a pet care business owner/operator that provided excellent care and achieved sales over $1 million a year
 A best-selling book and staff training program used by thousands of dog daycare providers to keep dogs safe
An established history of volunteering as a leader in the industry creating the first daycare standards and founding an independent professional animal care certification program
When I'm not writing or creating new programs I can be found reading, in my garden or enjoying great food and wine with my family and friends. Bill and I love our spring and fall trips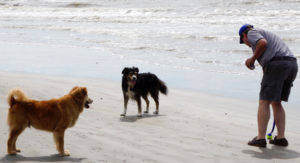 to the beach with our pups, Sheppy and Archie. I'm always up for a travel adventure to enjoy nature, explore history and appreciate our diverse cultures. Crystals are always with me either as jewelry, home décor or garden art.
If you're intrigued to know more, here are four things you don't know about me…
I earned a Masters of Accountancy and passed the CPA exam in 1984
Small business ownership runs in my family including both grandfathers, my dad, brother, sister-in-law and Bill
My friends outside the pet industry were met during my 15 years as a docent at the Houston Zoo
I'm a passionate Houston Texans fan and season ticket holder
Work with me now by scheduling a FREE 15 minute consult session and get clarity on your next steps to achieve success.